Read here tips to Fix Android Won't Download Apps error
Android phones may be the best with incredible storage options and a huge variety of Google Play applications, but not being able install any of those can hinder the convenience and cause much chaos.
Experiencing issues while updating or downloading a Google Play app is neither quite uncommon nor unfix-able problem. Simple solutions can help you get rid of the issue in less than 30 minutes. To start with, we recommend you to check your internet connection. Play Store requires steady Wi-Fi or data connection to be able to download and install an application on a device. If you have been using data, try using Wi-Fi or switch internet connections between different telecom service providers to ensure that the problem is not with the connection.
Once you have taken the necessary steps, try downloading an app again. If the problem still persists then read on. This article offers multiple solutions of how to fix when the applications do not download on Google Play Store. One of our solutions should help you resolve the issue.
Note : Our solutions should work for all Android devices and Play Store issues such as when your Samsung tablet wont download anything.
Solution 1 – Restart Your Device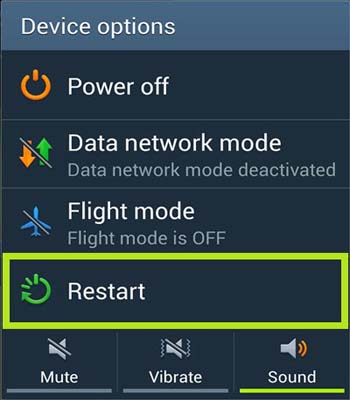 If you have downloaded applications before and this is the first time that you have faced a problem as such, then switching the device off and then back on should resolve the issue at once. Sometimes that problem to why an application won't download in your device is related to a temporary bug or software issue. These can be fixed simply by restarting the device.
You May like to Know : Guide For Fixing https://olpair.com & Pair Error in OpenLoad Streaming
You can start by putting your phone on airplane mode and then again putting it off the mode to ensure the connections are refreshed and strong now. Try downloading the application. If it doesn't, then restart the device. To restart it,
Long press the "Power Button"
Allow "Power Off" or "Restart", depending on whichever is available on your device
If you switched it off, switch it back on
Once your device is restarted, launch Play Store and try to download the desired application again. There is a good chance that the problem that was previously preventing the download was automatically solved by the device. However, in case the problem continues and still prevents you from downloading the application, skip to the second solution.
Solution 2 – Check Date and Time Settings on Your Device
This is an uncommon information which not many Android users are aware of. Syncing your date and time correctly on the phone plays an important role when you are trying to download an application from Play Store. When the download is attempted, Google servers will check the time and date on the device. If they do not match the time and date of the servers, the Play Store won't download anything.
To check and/or correct the time and date on your Android phone, follow the step-by-step guide mentioned below.
Go to "Settings"
Tap on "System" or "Additional Settings"
Select "Date and Time" option
See if the settings are in sync with your location and if not, toggle on the "Automatic Date and Time" option
However, if the Date and Time settings are correct and automatically ensured for accuracy, then change them manually. Be as accurate as you can. See if the problem is fixed after you have made these changes. If the downloading still fails, then use our solution number 3.
Solution 3 – Switch From Cellular Data to Wi-Fi
If you recently replaced your old Wi-Fi provider with a new one or are using some other Wi-Fi connection instead of the usual one, then there is a chance that switching to mobile date will enable a successful download. The reason is that certain Wi-Fi networks block port 5228, the one used by Google Play Store. As a result, Google Play will not download apps.
Once you have switched to data connection, restart your device before resuming the download. See if the issue you were facing has now been fixed. If not, then read our next solution.
Find here :  how to Fix 0xc00007b/0xc000007b Error on Windows 10, 8.1, 8 & 7!
Solution 4 – Clean Google Play Cache and Data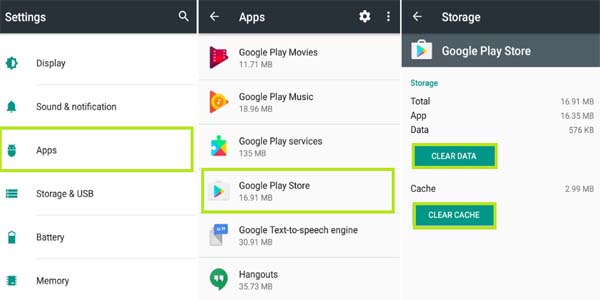 You can easily solve quite a few Google Play problems by simply erasing its cache and data. While, deleting cache has no impact on your downloaded applications or information saved on Google Play Store, deleting data will sign your out from the Play Store. Therefore, before clearing the data, make sure to remember key information such as the username and password which you use to sign into the Play Store.
The following step-by-step guide will help you in clearing cache and data from Google Play Store,
Go to "Settings" menu
Tap on "Apps" or "Application Manager"
Select the "Google Play Store" option
Tap "Clear Cache" to clear cache and then tap "Clear Data" to clear the data
A pop message will appear; confirm to delete the data
Some Android phones may have a variant of this route. Tap on relevant options until you reach Google Play Store in your Application Settings or Manager. Clear the data and cache. Later, try downloading the desired application again. If the download still fails, try to uninstall and reinstall updates on Play Store. If the problem still persists, then skip to our solution 5.
Solution 5 – Clean Google Play Services Cache and Data
Google Play Services is the process through which the application on your phone communicates with different components of the device. Google Play Services are also responsible for sending timely push notifications and plays a vital role in ensuring the applications and Google Play Store are working properly. An issue in the cache or data files of these services can result in the failure of application download on the Play Store. Thus, if nothing so far has worked to resolve the issue, try clearing the data and cache from Google Play Services.
Go to "Settings"
Tap on "Apps" or "Application Manager"
Navigate the "Google Play Services" option and tap on it
First "Clear Cache" and then "Clear Data"
Confirm that you want the data cleared
The route to the Google Play Services may be different in different Android devices. Take the most relevant route and choose the most appropriate options to get the task done. Solutions so far should resolve the issue with downloading the apps on Play Store. However, if the problem still persists, try our next solution.
Solution 6 – Uninstall and Reinstall Updates on Google Play Store
Updates usually mean UI improvements or better features, but sometimes an update can also mean unwanted problems. If your downloads have been a problem ever since the Google Play Store updated, then maybe uninstalling and then reinstalling them will allow the desired application to install.
To undertake the task,
Go to "Settings"
Tap on "Apps" or "Application Manager"
Go to "Google Play Store" and tap to select this option
Tap on "Uninstall Updates"
Once the updates are finished been uninstalled, go to the home screen, close all the applications running in the background, and restart the device. Once, the device is powered on again, go to the Google Play Store in Application Manager or Settings and reinstall the updates. Try to download the application now and check if the Play Store is working as expected.
This should eliminate any problem that was caused by the recent updates of Play Store. If the download continues to fail, then try our next solution for more help.
Solution 7 – Try Downloading Another App
Sometimes, the problem that causes the download to be unsuccessful may be the result of an internal issue faced by the application you are trying to download instead of your device or Google Play Store. It is recommended that if one application fails to download despite your several attempts, then try installing a different application to see if the problem was with the previous application.
If the other application downloads easily, you can contact the customer service of the previous application for assistance. However, in case it does not install either, you can try our final solution that should be able to solve it at once.
Solution 8 – Reset the Device
Resetting the device to factory settings is effective in solving several Android problems, which also includes the problem with downloading an application through Google Play Store. If you reset the phone to factory settings, you are basically bringing the software back to the original first version which was installed when you bought the phone. All the phone data, including your personal files (excluding built-in applications) will be erased once your reset the phone. All the personalized settings, such as choice of keyboard or theme, will go back to its default mode.
This is why we suggest that you create a backup for all possible files, themes, and settings before resetting the device. You can create a backup using your computer or by uploading it to Google account/drive. Once the data has been saved, you should be ready to follow the steps mentioned below.
Go to "Settings"
Choose the "Back Up and Reset" option
Select and tap on options that meet your needs
Scroll down to the end and tap on "Factory Reset Data"
Confirm that you want to reset
Once the reset is complete, your Android phone will automatically restart to be ready for use. Now you can go to Google Play Store and download any application that you want. The problem should be solved now.
Conclusion : It is hard to determine the reason to why you cannot download from Play Store. This article explores various possible reasons and their potential solutions to ensure that by the time it ends you have found a solution that works for you. From restarting to resetting the device, there are step-by-step guides to all solutions to make the process of resolving this issue easy for everyone.
Author Bio :   Pooja Shah is a Content Marketing Manager at TopMobileTech. It is a blog where I cover all the tips & tricks related to Mobile and more related to tech.  Stay connected to the rest of the world with Top Mobile Tech. We bring latest and critical news to your mobile and computer devices.