Finding the best clip-in hair extensions colors for your complexion may seem like an impossible task, especially if you have a darker skin tone. However, there are tons of hair extension options available to you—you need to know what works. This article will reveal the top 10 most popular colors and which women should wear these hair extensions clip in style.
For Dark Skin Women
When it comes to using the hair extension with clip in option, brown is one of the most popular and versatile colors available on the market today. It's a deep shade that can be worn with many outfits and looks great against any hairstyle or hair texture.
Since dark shades tend to blend into people's skin tone without offering much contrast, you will want to add a few lighter shades in your hair extension for that extra pop.
Many women prefer brown chocolate extensions over the standard brown color, as it is darker and offers more richness. The only downside of using chocolate brown is that you may have a hard time wearing it with most outfits. Other browns such as auburn and Cherrywood offer similar qualities without the hassle of going too dark.
Plus, they are flattering regardless of your skin tone or hairstyle preference. You can also incorporate blonde highlights into your hair extension for added depth and dimension.
For Light Skin Women
Finding the best clip-in hair extensions colors for you is pretty easy if you have a light complexion. With so many hair extension shades to choose from, you can easily find quality extensions that match your natural hair or lighter color.
All blondes are beautiful, but ash-blondescome in at the top to match all skin tones and hair types. If blending in seamlessly is not essential and you want to add more warmth and richness to your locks, go with honey blonde clips.
Blonde highlights will also add extra depth and dimension to any hairstyle. For the most dramatic effect, try mixing both darker shades into your hair extension for an elegant look that's sure to turn heads.
For Medium Skin Women
Like women with light skin, women with medium complexions have a wide range of hair color options. One unique color is mahogany brown extensions, which look fantastic on individuals with lighter eyes and darker hair.
It's also flattering on all skin tones as it offers contrast against your complexion without appearing too dark or too bright. If you are not afraid to go bold, consider deep cherry red for that added dimension and flair.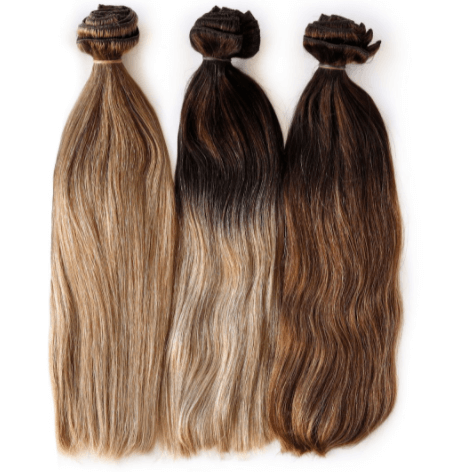 For Fine Hair Types
Women with fine or thin hair may not think they have a choice when it comes to the best clip-in hair extensions colors for their mane, but that couldn't be further from the truth. Whether you have fine, straight, wavy, or curly hair, a shade is available to make your locks look thicker and fuller instantly.
For all Skin Tones
When you're looking for the best clip-in hair extensions colors for any complexion, you should look no further than blonde highlights. This shade comes in several different versions, ranging from lighter shades to more vibrant hues. These hair extensions can make you look classy, sophisticated, and chic.
No matter what type of blonde you decide on—golden blondes, platinum, honey, or ash—you'll be surprised to see how it brightens up your skin tone. If you're looking for a natural effect, try mixing several shades for an effortless look that works on all complexions.
Wrapping Up
For women looking to add a splash of color without going overboard, mahogany cherry extensions are a fantastic option. They pair wonderfully with all skin tones and can be worn as an everyday shade that's low-maintenance and versatile.