Fabulous and Amazing Party Decorations for 31st Eve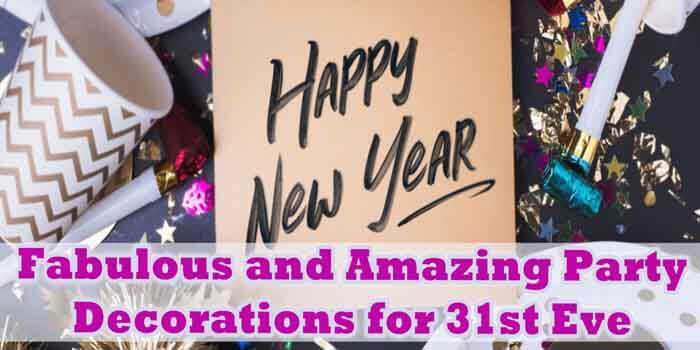 People love to celebrate every moment and when it comes to New Year's, then we love to celebrate it in a grand way. Most of the people love to celebrate 31st eve because it's the last night of a year, so they put all the love and passion to welcome a new year with full energy.
If you are also planning to arrange the party on the last day of a year, then here are the fabulous and amazing party decoration ideas for 31st eve:
Popping Gold Confetti
If you want to welcome a new year, then you must have to use the popping gold confetti. With the help of this, you can shower a glitzy surprise on your guests. If you are throwing a party, then you must have to include this decoration on the 31st-eve party. This popping gold confetti shooter will add more excitement to your party and in this way, you can welcome the new year in an exciting way.
Balloons Garland
If you are planning to organize a New Year party, but you don't plan anything yet, then you can use this decoration idea to the party. Making the balloons garland is very easy; you can make it with a number of balloons. Balloon garland is one of the best decorations that match with any kind of party theme. It is the customizable options that you can prepare the balloon garland for any kind of party. You can also send balloons to your loved one on any beautiful occasion.
Glittery Drink Station
Now a day, it is very common that people drinks at the party. So, if your guests also drink, then you have to arrange the things according to that way only. You can make the drink station glittery because the guests around the drink station will feel happy and enjoy your New year party. To do this decoration, you can prepare the glittery banner which will look beautiful on the wall. Along with this, you can use some flowers or other accessories to decorate the place.
Must Know :  Top Nightlife Destinations in Bangalore for Party Lovers
Flower Bouquet Centerpiece
In any party, decoration plays a very important role. So in this New Year party, you can try some guides inspired centerpiece. You can create the beautiful flower bouquet centerpiece while using different beautiful colored flowers. Or if you want a simple look, then you can put the simple white flowers in a low bowl and finish it with spring of seasonal greenery along with a birch candle. There are many ways to create the centerpiece with the flowers, if you don't know that how to make it, then you can take the help of florist to prepare the beautiful and attractive flower bouquet centerpiece. You can send flowers as well to make a moment more beautiful.
New Year`s Wreath
The festive decor is incomplete without a wreath. The homemade decoration option is always the best ways to create the door decoration stuff with the glitter party horns, tissue paper as well as the New Year's eve cutout. New Year's wreath is one of the wonderful and fabulous idea for making the new year party memorable and exciting for the guests. Even it will be the best option for the last minute decoration. You can check the details about the idea on the web.
Glitter Balloons
Balloons are available in different shape, colors, and designs as well as in different varieties. To make your party decoration fabulous and amazing, you can sue the glitter balloons that are easily available in the market. You can also buy it from the market; it will give a beautiful appearance to your party and within your budget. If you want to make your guests happy and want to give a wonderful surprise on the occasion of New Year. You can buy attractive glitter balloons online and give a beautiful appearance to your party. You can select the different colors balloon which can go with your party theme.
These are the fabulous and amazing party decoration for 31st Eve, you can try any guide to make the party more exciting. These decoration ideas are simple but attractive. Even these are the last minute decoration idea that anyone can use to welcome the New Year.