One of the main people concerned about the India and its education system is none other than the great personality of all the time, Dr. A.P.J. Abdul Kalam(died on 27th July, 2015). To start off, Abdul Kalam was the 11th president of India (2002 – 2007). Born on 15th October 1931, he was an average student in school, but he driven by his strong desire to learn. Being a career scientist turn statesman, he came from Rameswaram, a city in the state of Tamil Nadu.
He graduat in physics and aerospace engineering and then spent the next four decades as a scientist and science administrator, at Defense Research and Development Organization (DRDO) as well as Indian Space Research Organization (ISRO) and was finally and intimately involve in India's civilian space programme and military missile development efforts, thus making him well-known as the Missile Man of India.He provides humongous contribution in this field as well as in politics, appropriately refer to as the People's President. Going through the biography of great personalities is always makes us feel curious.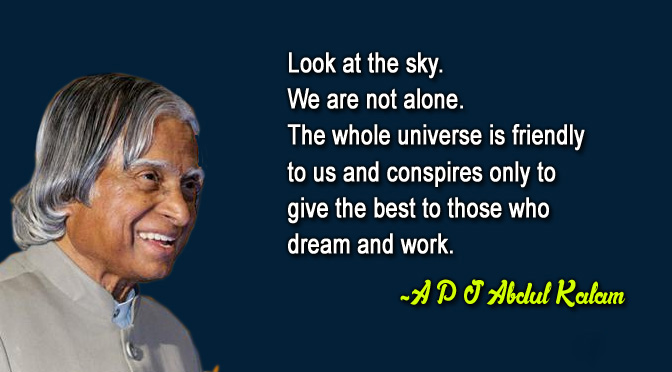 Relevance of Kalam's Ideology in Educational Field
 Late Dr. APJ Abdul Kalam knew the importance of education and hence was a huge advocate of education as the primary driving force of personal growth. His contributions to the science and education are described here.He harbored the belief that it was knowledge that made anyone great, motivated a person to achieve great heights. He known as a teacher; despite the range of titles he had earned in all of his lifetime.
Find :  Ohm's Law : Know Here All About !
According to him, besides the normal curriculum, that the Indian education system generally follows, the children should be provide special training in one particular skill set. It should do which will offer an extra certification which will not only help them get a job right after school but also make them aware of the workings of the real world industries. He emphasized on a unique, holistic view of the current employment scenario – as he believed in a different approach towards the issue of unemployment. He aimed at making the students empowered enough, in order to promote entrepreneurship in the country, which will ultimately generate job creators instead of job seekers, thus effectively decreasing, if not ending, the issue of unemployment.
Important Contributions Of A.P.J. Abdul Kalam
His direct contribution to the advancement of science and technology is commendable, thanks to his being a top scientist of international reputation. His most important contribution would be the introduction of Mission of Education. India, thanks to this mission, is in the process of transforming itself into a developed nation by the year of 2020, with the emphasis given on education and overall literacy. Along with it, Dr. Kalam also wished to have every school accomplished with basic amenities such as good buildings, enough ventilation and lighting, airy and spacious classrooms, a well-stocked library as well as laboratories, along with provisions for safe drinking water, clean toilets and a playground.
All in all, Dr. APJ Abdul Kalam was a visionary man, with ideals and dreams suitable as well as attainable for India and its people. It a real shame to see this man, with such commendable unique beneficiary beliefs and ideas, not amongst us anymore.