Using Internet has become one of the basic necessities of life, quite literally. What with the Corona Virus rampaging around and countries going in lockdown, one of the favorites pastimes of people is to binge-watch tv shows and series online. While Netflix solves the problem for many people, the majority still struggle with finding a virus-free, ads-free as well as free of cost tv shows and movies. However, worry no more, as you have the option of having watching tv shows and movies for free! Yes, you heard it right. Read along.
The internet has, as always, come to rescue you from your boredom, by giving you these sites, as listed below. These sites given below are free to be used, without even you needing to download it.You can surely binge-watch on your favorite series – or even start new ones – if you don't have anything else to do in all of this free time.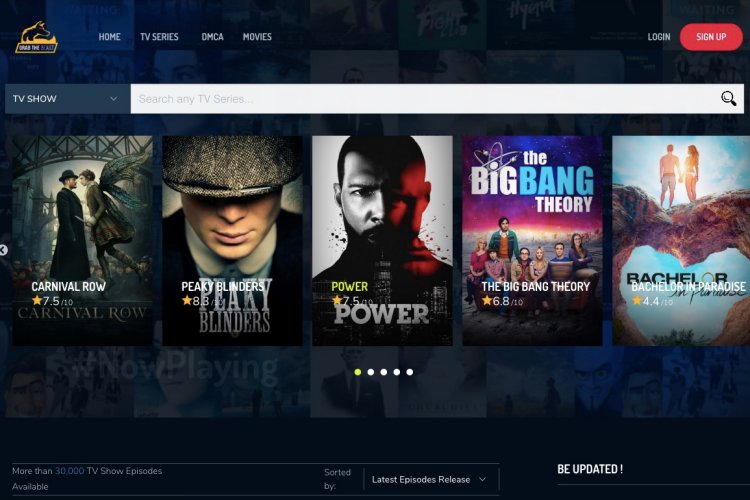 Crackle
Topping the list, we have Crackle, which is the ultimate platform to stream and watch tv shows online free. There is no limit at all as to how many TV shoes and movies you watch, or can watch on the site. It is also smartphone-friendly, which means that you can also enjoy these shows on your android and iOS phones. The website, unlike most of the streaming platforms out there – is absolutely secure and legal to use, with the minor inconvenience of infrequent, sudden ads. But that's a small price to pay in return of free latest TV shows and movies, right?
PopcornFlix
One of the most popular streaming websites, PopcornFlix is the most sought-after site, with its well-kept website and beautiful user interface, as well as the categorized and free movies and tv shows. The website also gives its users a renting option, where they can actually rent the movies and TV shows.Probably the only downside here is the lack of latest series to watch; it's a little slow in updating the latest shows and movies to their massive library. But as for the others, it is very easy to access.
Pluto TV
Pluto TV is just like how a Television would work, without the remote part, obviously. No wonder the name has TV in it. There are obviously different categories of genres, including comedy, lifestyle to movie and music – and so much more.If you want to watch Netflix shows online free, then this is the platform for you. There are also channels like Science TV and NASA TV for you to get something entertaining yet education to watch.
SolarMovie
SolarMovie is that one website where all the content just gets updated in 2-3 hours, or maybe less than that. So, for you to watch tv series online, SolarMovie is the website to go to. With this, there is no problem of you missing out on any content – i.e. latest episodes of your favorite series – because it more probably gets released as soon as it is broadcasted worldwide. That is perhaps the most likeable feature of SolarMovie.
Vumoo
Vumoo is a people's favorite apparently, as it does offer a smooth movie/TV show experience to the users. There's a search option, where you can search for your favorite ones, but the exciting features sadly stop here; there are no filters to the contents of the library whatsoever. Nonetheless, it is basic and no-nonsense website, kind of what people love to use most of the time.
MoviesJoy
MoviesJoy has an added perk of no annoyance, i.e. there are no frustrating ads and popups that you will encounter during watching any series or movies on it. The website offers an intriguing collection of movies and full TV shows, all of which are available in HD quality. There are filters offered (thank goodness) so that you can get to your desired series or show in no time. The library is frequently renewed, with the addition of latest shows and movies, which means it's a dream come true!
LookMovie
LookMovie is also a good enough website – enough to make it in top ten! It is perfect to watch online TV show and movies for free. The plus point of this website its cleaner, neater and much organized layout, as compared to any other websites on the list. There are movies too – as you can see from the name – which you can stream too, to your heart's content! Now that you have more than enough time to handle everything, catch up on your to-watch list!
BMovies
BMovies will beautifully work as your backup site, in case of the top website don't have your favorite TV shows and series – because this one has it all. BMovies offers a vast collection of TV Shows, where you can watch shows like The Flash, The Voice, to Arrow, NCIS and so on. There is no condition of compulsorily registering on the site, but you can probably store your watch history if you do. The main thing is that you can actually watch english series online – and that too for free!
CineBloom
CineBloom has an additional layer of security, where you need to first confirm that you are not exactly a robot. Click on the 'I am not a robot' checkbox, and then you will be guided to the website, where you can apparently watch tv series and movies that you want to your heart's content. It becomes a little inconvenient to power through, as there is one search box to find your TV shows. And also, there are no filters whatsoever; you will have to stifle through the series to find the one you want by changing the pages.
The websites mentioned above are handpicked and chosen with great care, so that you get the deserved best experience of watching new TV series, shows and movies too, for free! How much better can it get?