With the 2019/2020 winter coming to a close, we're already eyeing the top fashion trends for next year's chilly season. After last year's eye for classic 80s style, we're predicting a further fondness for the nostalgia of the past, as women's fashion ideas trend back towards comfort in the wake of the past decade's hard-edged power aspiration.
Celebrating the warmth of home might seem at odds with the independent empowerment of the 2010s but nothing could be farther from the truth; indeed, the push to revolutionize women's place in the 'cup of tea and fireplace' family unit is more pertinent than ever. That's why we're predicting a strong return to symbols of comfort and warmth over the coming fall and winter seasons.
Tartan
An enduring sight among the thick wool-clad denizens of the North, tartan-style patterns meshes wonderfully with the warm shawls and scarves of the winter season. As bold, striking colors make a comeback in recent years the intricate historical patterns take on a life of their own and complement almost anything you could be wearing.
In particular patterned scarves are coming back in with a vengeance, combining chic accessorizing with warm practicality. As the patron saint of warmth the scarf is a key part to build your outfit around, so make sure it stands out with eye-catching patterns. There's a reason tartan has stayed one of the top fashion trends for decades!
Check
Check yourself before you wreck yourself! The tartan's more laid-back, casual cousin, check patterns (especially in warm, earthy tones) are the casual Friday to the tartan's smart casual. Similar accessories in chunky, colorful patterns are a perfect way to show off your fun side in the dismal, grey weather of winter. Best of all, you can find it in all the best women's and men's clothing stores.
Need some ideas? A big chunky patterned shawl or ruana is a great way to add some winter fashion to your outfit with ease, as seen in many apparel winter trending posts! Throw it on top of whatever you're wearing and make sure to adopt a lovely small dog to accessorize even further. Dogs go well with tartan too, so keep that in mind when you're picking out the perfect winter accessories for this winter.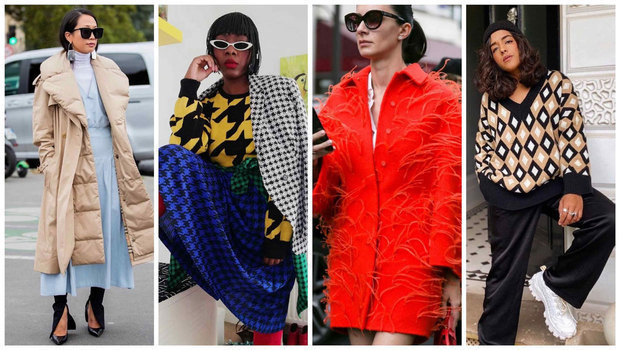 Spots
It's another classic pattern that designers are still finding new ways to work into our everyday fashion lives. You would think that so many years after the invention of the spot we would be running out of ways to put it on our clothes, but we keep being surprised! Colored spots (also known as polka-dots) are all the rage these days and that sets to continue into the winter season.
As winter is typically the most depressing season according to psychological studies we think the top fashion trends will be focused around bringing warmth and joy into the cold months of the year. That's why lots of bright colors are going to be at the forefront of fashion in winter, and quirky spot patterns are an easy way to plaster them across anything you might want to wear. Scarf? Sure! Hat? Why not! Boots? You do you.
An added benefit of a spot pattern is that the varied, complicated design can be great for disguising a cheeky red wine stain. We've all done it!
Plain
Just use colors! Bright colors bring joy to the lives of everyone around you and are easy to come by pretty much everywhere you look. You don't have to stand out on the street to be a trendsetter, and a bit of classy refinement goes a long way to looking your best in the cool greys of winter.
After all, you don't always have to fight the prevailing mood of the snow and sleet season. Light greys and subtle seasonal tones have a rare warmth that doesn't overstay its welcome and in case you need a minute away from the rest of the world you can wrap up your whole head and disappear into obscurity. There are so many uses for just a subtle black or grey scarf that we can't possibly write them all!
Do you have any more fashion ideas that you want to see come up this winter? Any more top fashion trends you expect to see on the hottest models around?