Braided hairstyles are quite common in girls and they really love the uniqueness of the look. Typically, we have 1-braid or 2-braids hairstyles for little girls and it has become a universal choice as well. But don't you think it would look quite banal? Well, in order to make the braided hairstyle of your little girl look more interesting, you should try and do a bit of experimentation with volume, various braids types and designs. Here we have listed the 10 best braided hairstyles for girls that would definitely give you some inspiration.
Stylish French braids and exquisite cornrows will be among the most popular choices in braided hairstyles this year. Both these braid types not just flatter on girls but also look amazing on their moms as well. You just need some practice and patience to be able to effortlessly braid the hair of your little one. So, let's just not waste any time and check out some of the best braided hairstyles for girls.
Twisted Mohawk
All the hairstyles for little girls that are practical and cute at the same time, most of which you can find at Mr Kids Haircuts, normally meet a single requirement i.e. they all have pulled back hair that is moved away from her face. This twisted Mohawk does exactly that. It ensures that your child has a good day having fun and doesn't have to fuss at all with the messy curls. The hairstyle features some cool designs that are molded by the simple cornrows.
Cool Braided Ponytail
You can make the braids for girls look glamorous rather than cute. This is, especially, so when you are looking for something that looks cool for a pre-teen or a teen. The hairstyle looks adorable and will quickly take your girl to prom and the best part is that it works fine for just about any age group.
Cute Natural Pigtails
When on the lookout for protective braided hairdos for little girls that won't harm your little girl's natural hair, give her classic pigtails a fun twist. Place a ponytail high on her head and make her look fashionable and cute. The hairstyle is just perfect for black little girls. In addition, you'll surely have great time while matching the hair ballies with her outfit daily.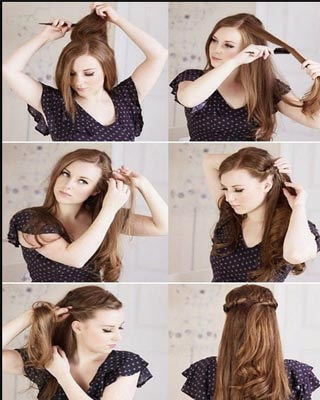 Spiral Fishtail Bun
For achieving a trendy braided look, you should try to experiment with a fishtail braid. Even though the hairstyle is quite intricate and would take some practice to perfect, a major upside of this beautiful look is that you won't need any hairpins to hold it into place.
You May Like to Know :  Top 10 Men Latest Hairstyles
Ghana Cornrows
Obviously, just as the name suggests, the hairstyle is for black girls. Ghana cornrows look gorgeous and they are making a comeback after quite some time. Even though we usually see straight parts in thick cornrows, this beautiful hairstyle switches everything up with the curves adding a few small braided layers in between. Adding a few colorful beads into the mix will definitely make best hair styles. Make sure you consult with the best hair stylist they are the only one who can give provide you with the trendy and the best braided hairstyle at ease.
Uniquely Braided Mohawk
This is another cute and inspiring style for little girls and it will definitely make her look stand out while giving her all the confidence she needs. The hairstyle requires the thicker and thinner cornrows to be pulled straight backwards from hairline and they're then blended perfectly with the extensions for creating beautiful twisted and chunky Mohawk buns. It is really a fun hairstyle and your girl will always remember it.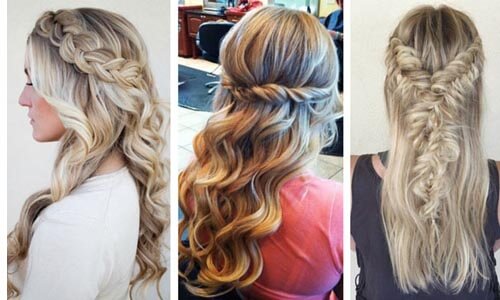 Beautiful Cornrows With A Bun
It's a simple braided hairdo that you can even achieve at home. Yes, you don't need the designer braids for achieving this look. Working with the thicker cornrows will make sure that it goes by quickly and your fingers aren't hurt in the process. The hairstyle boasts of cornrows going up from all sides and forming a beautiful bun at the crown. It looks gorgeous.
Cornrows With Top Knot
If you are not too open to the idea of having a thick bun, you'd be better off trying a top knot. Everyone loves the kids braids which give you a chance of having fun with the hair accessories such as beads and ballies and this hairstyle is no different. The only difference between this look and the one above is that we don't have a full-blooded bun this time and, instead, there is a cool top knot.
Beautiful Floral Crown
To achieve a pretty and soft look for special occasions, try to go with a loose crown braid. Create a side part on top and the braid the hair on thicker side. Keep pulling some new strands right from the center and continue to braid low on hairline. There is no need to worry about maintaining same width while braiding rather you should pull at it for perfecting it towards the end.
Zig-Zag Braided Updo With A Ponytail
It is true that braided hairstyles can be hard to achieve and may require a lot of time for you to complete, but there are many hairstyles that won't consume you in achieving the look. Here we have one for you that doesn't require you to be an expert for achieving the look. The look can be achieved by sectioning the hair off and creating three parts. Next, you need to start at bottom and go up as you braid. Use clear elastics at each step as you move up in order to achieve the look quite easily.
So, pick any of these beautiful braided for girls and give your little one a beautiful style to flaunt. You have several hairstyles on the list that are specific to black girls as well. Just make your pick and you will have something special for your little girl.