From undercuts to man buns to ponytails, you have all the variety in men hairstyles as you have in hairstyles for women. However, as winter is approaching, you might be wondering which hairstyle you should flaunt this season? Short hairstyles don't present much of a challenge in terms of carrying them while for long hairstyles you need more care and maintenance. Both the types come with their own merits and demerits but once you've decided on the length, you can surely come up with something that works for you. Let's check out some of the best men hairstyles that will be in fashion this winter.
Fringe Men Hairstyle
Often called as Man Fringe, Fringes can be low maintenance hairstyle depending on which particular fringe you want to go with. One of the most stylish fringe styles today is 'Angular Fringe'. The style emerged to popularity towards the end of last year and is expected to pick up this winter season as well.
The hairstyle requires you to taper the sides to a preferred length while keeping it long on top. Remember to get the hair on top cut at an angle to achieve a perfect look. The hairstyle works perfectly for men with round face shapes but others can also look cool in it.
Swept Back Hair Men Hairstyle
Long hair is synonymous to winter season and men often grow it long in winter to keep their heads warm naturally. However, how cool you look in long and swept back hair actually depends on the kind of layering done on your hair. You can best achieve the style by getting your hair around the neck and the ears cut to almost 2 inches shorter. If you talk about it overall, you will look sexy and sophisticated by sweeping it all backwards and there is a lot of room for experimentation as well.
Messy Waves Men Hairstyle
If you go a few decades back, you'll find out that the best option in men hairstyles for controlling the messy and wavy hair was to cut it short all around. However, the trends have changed and it's all about growing it long now. Here again, you can style it in all the different ways you want. For example, you can think about keeping it long, messy and wavy on top allowing the layers to fall over and get the sides shaved off to give it a touch of neatness. The hairstyle looks quite natural and isn't much of a hassle when it comes to maintaining it with the shaved sides.

Afro Men Hairstyle
If you are an Asian with naturally frizzy hair, you can let it grow out and have longer hair on top that looks more like Afro hairstyle. It's up to you whether you want to get the sides shaved or not, obviously you won't want that in winter, so that you can make your top hair grab more attention.
The hairstyle, however, requires quite a lot of care and maintenance and its upkeep may prove to be a bit costly.
Fade Men Hairstyle
Faded sides are quite a popular choice in men and they don't care whether it's summer or winter to achieve the look. The hairstyle gives your hair a fresh look and allows you the cushion by not going for sides that are completely shaved. The extent of fading and which specific fade type you want depends on your personal style and the look you want to achieve. You can opt for a high fade, low fade or even mid fade. Fading works perfectly for quite a lot of hairstyles and hair textures and, sometimes, it can help you hide your receding hairline as well.
You May Like to Know : 10 Best Braided Hairstyles for Girls
Simple Side Parted Men Hairstyle
This is a simple, yet cool, look to flaunt this winter. The hairstyle works fine in most professional settings. Though it's simple in the fact that you have to part your hair from the side, you can always impart the sense of style into this beautiful look by growing your hair to different lengths on top, or by going with faded sides, or whatever style you feel great about.
Undercut Men Hairstyle
Undercut is quite a trendy hairdo for men and it really makes them feel empowered just because of the military feel it has to it. If you want to achieve an undercut in winter, it is advised that you combine it with long hair on top and keep it disconnected from the sides, it will look really cool and amazing. In such cases, undercuts have prominent line that outlines hair on top from those on the sides. You can even jazz it up with a cool surgical design on the sides as well.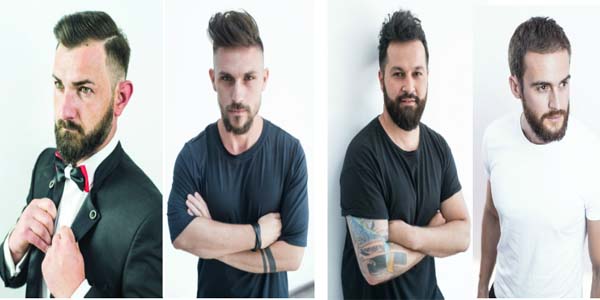 Quiff Men Hairstyle
If you want to flatter your style, you really need a Quiff hairstyle. The hairdo is known for combining retro vibes with the modern flare to achieve some sensuality and radiate the style. Quiffs look sexy but you don't have to take them too high up in the air. For a more adventurous look, go for something hybrid that combines a flat top look with a pompadour style. You can also give it a messy and unstructured vibe by letting your hair to dry naturally.
Samurai Haircut Men Hairstyle
Now, this is one of the most stylish and adventurous looks to achieve this winter. Obviously, you have o grow your hair long and give it a touch of style by sweeping it backwards and creating a beautiful top knot to achieve the Samurai look. The hairstyle is trendy and stylish and really makes for a perfect look in winter.
Bun Twist Men Hairstyle
It's a perfect hairstyle for men not interested in clipping up their man bun and still want to flaunt their long hair. The hairstyle also works for men who lack that long mane and can put the hair into a cool ponytail. The hairstyle is actually a mixture of a couple of different styles. It requires the top as well as bottom sections of hair divided and twisted closely. These sections are then joined to form low ponytail before being twirled into a cool untidy knot. Overall, it really looks stylish.
So, these are the perfect hairstyles for men this winter and you can also style your hair into one of these beautiful looks. You can also take the liberty to experiment with these beautiful styles and come up with something special for yourself. But don't worry, you can even wear these styles as they are and you won't be disappointed at all.