Pressure Side Pool Cleaners – What are They and How Do They Function
 Pressure-side cleaners are normally attached to the return (pressure side) of the swimming pool's circulation technology. They are also known as booster pump cleaners.
The water used in this cleaning tool is pumped back to the swimming pool and then it'll function to propel the pressure-side cleaner. This type of pool cleaner usually has its hydraulic power plant in it.
Comparing it with the suction-side and with other pool cleaner types, pressure-side pool cleaners have their useful and unique benefits. They're very productive in terms of delivering filtered and ultra-clean water throughout the swimming pool.
Every pressure-side cleaner has its dirt container (detritus bag). Because of this, no doubt the filter system won't get ruined as the dirt and detritus will not be transferred to the pool filter and pump basket.
Despite the container being full, the pressure-side cleaner will continue to work and collect detritus. The downside, however, is that it won't gather that much dirt unlike if the container is emptied.
Pressure-side pool cleaners acquire their strength from the powerful blasts of water that are returning to the pool coming back from the pump. This kind of pool cleaner operates even without using electricity.
In general, these amazing cleaners are beneficial in terms of maintaining the maximum cleanliness of your pool. But nowadays, there are a lot of new obtainable models in the market. It makes it difficult for people to identify what's the best selection for them.
Of course, when selecting a pool cleaner, we all want to pick the one that will undoubtedly facilitate every cleaning task. We also want to spend less time cleaning our pool. To avoid disappointments, we have to know what are the best pressure-side pool cleaners this year.
Find here the List of Pressure-Side Pool Cleaners in 2021
Polaris Vac-Sweep 360
This preeminent pool cleaner named Vac-Sweep 360 is one of the most reliable and effective models that work very well in numerous in-ground swimming pools. It even operates without the assistance of a booster pump.
The one major thing needed to make it work properly is its dedicated pressure-line. The Vac-Sweep 360 also comes with a backup valve that spontaneously releases the cleaner once it is cornered.
This popular model that's designed by Polaris is dependable in terms of cleaning the walls and floors of in-ground pools. It is also incorporated with an innovative filter container that helps in keeping the filter secured. No wonder this product is also long-lasting!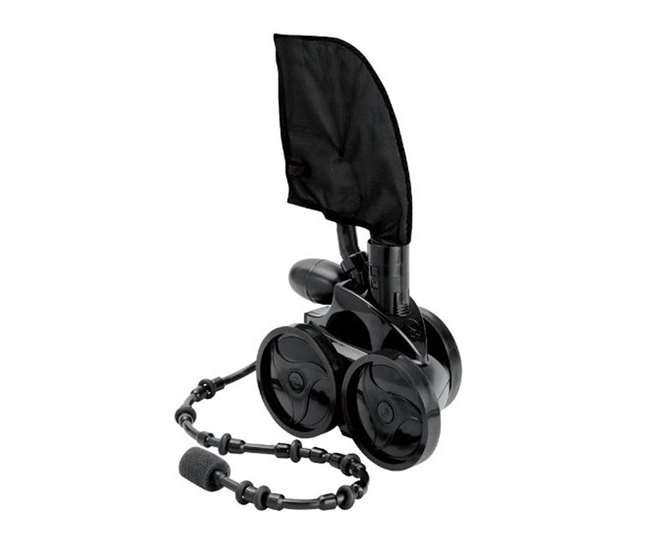 Other details:
 Weight: 28 kg
Length of the feed hose: 9.5 meters
Vacuum-inlet measurement: 2.25 feet
Note: A booster pump isn't required to make this unit work. However, you can still add a booster pump if you want; it's optional though. Additionally, the filter bag present in this cleaner is a single chamber. 
Zodiac F5B Vac-Sweep 280 Black Max
If your swimming pool is squarish in shape, you might end up having problems cleaning those tight spaces and hard-to-clean surfaces. However, that's not a problem if you're using the Zodiac Vac-Sweep 280. This unit works best in tight spaces and hard-to-reach areas.
It could be burdensome cleaning those tight spots manually. Fortunately, this model is mainly created to clean standard-sized swimming pools in just 3 hours a day.
Other details:
 Weight: 7.25 kg
Length of the feed hose: 9.5 meters
Note: A booster pump is required to make this cleaner work. The filter bag included in this cleaner is a single chamber. 
Polaris Vac-Sweep 3900 Sport
This model is one of Polaris's most high-performing pressure-side pool cleaners. It offers 40 gallons per minute of supplementary filtering through its container. It also comes with an extra sweeping technology that assists in preventing water from spritzing outside the swimming pool.
The Vac-Sweep 3900 Sport's vacuuming torque and power are much stronger than any other pressure-side cleaners. It works preeminently in eradicating thick dirt and numerous detritus from a swimming pool.
This is doubtlessly a tremendous selection if you're in search of a superior pool cleaner that can powerfully remove unwanted pool substances. But, remember, this only works with a booster pump. You'll have to buy it separately.
Other details:
Weight: 10.2 kg
Length of the feed hose: 9.5 meters
Note: A booster pump is required to make this unit work and it is sold separately. The filter bag included in this cleaner is a dual-chamber.
Pentair 360228 Kreepy Krauly Racer
Judging by its name, I think you already know what's the main feature of this pressure-side cleaner. Yes, the Kreepy Krauly Racer, created by Pentair, is a high-speed model that's conceived to clean your swimming pool as fast as possible.
This unit also incorporates some uncommon features such as LEDs to give supplementary clarity and visibility in the event of cleaning at night time. This feature makes this pressure-side pool cleaner an extraordinary and competitive option.
Moreover, it consists of a front-rotating brush and a large intake. Its cleaning power is a bit higher than other units that Pentair offers. It's truly an efficient and fast-performing pool cleaner that can aid you with your pool-cleaning tasks. It's also more affordable than other models.
 Other details:
Weight: 10 kg
Length of the feed hose:  Not Applicable
Note: A booster pump is required to make this unit work and it is also sold separately. The filter bag included in this cleaner is a single chamber.
Hayward TriVac 500
If you're searching for a pressure-side cleaner that's infused with an enhanced cleaning strength, no doubt you'll like the TriVac 500 by Hayward. It uses high-powered water blasts to render maximum suction strength to make in-ground pools rigorously clean.
It has an uncommon backup progression that helps the unit maintain its focus in cleaning the swimming pool quickly. It has a special feature called Patented AquaDrive Technology that utilizes ultra-strong water jets to drive the unit forward and clean the pool with ease.
This unit is included with an extra-large easy-open detritus container that offers an unusual float technology that can hold more detritus without having to empty the container frequently. The wheels are infused with non-slip grip. They make the unit stable.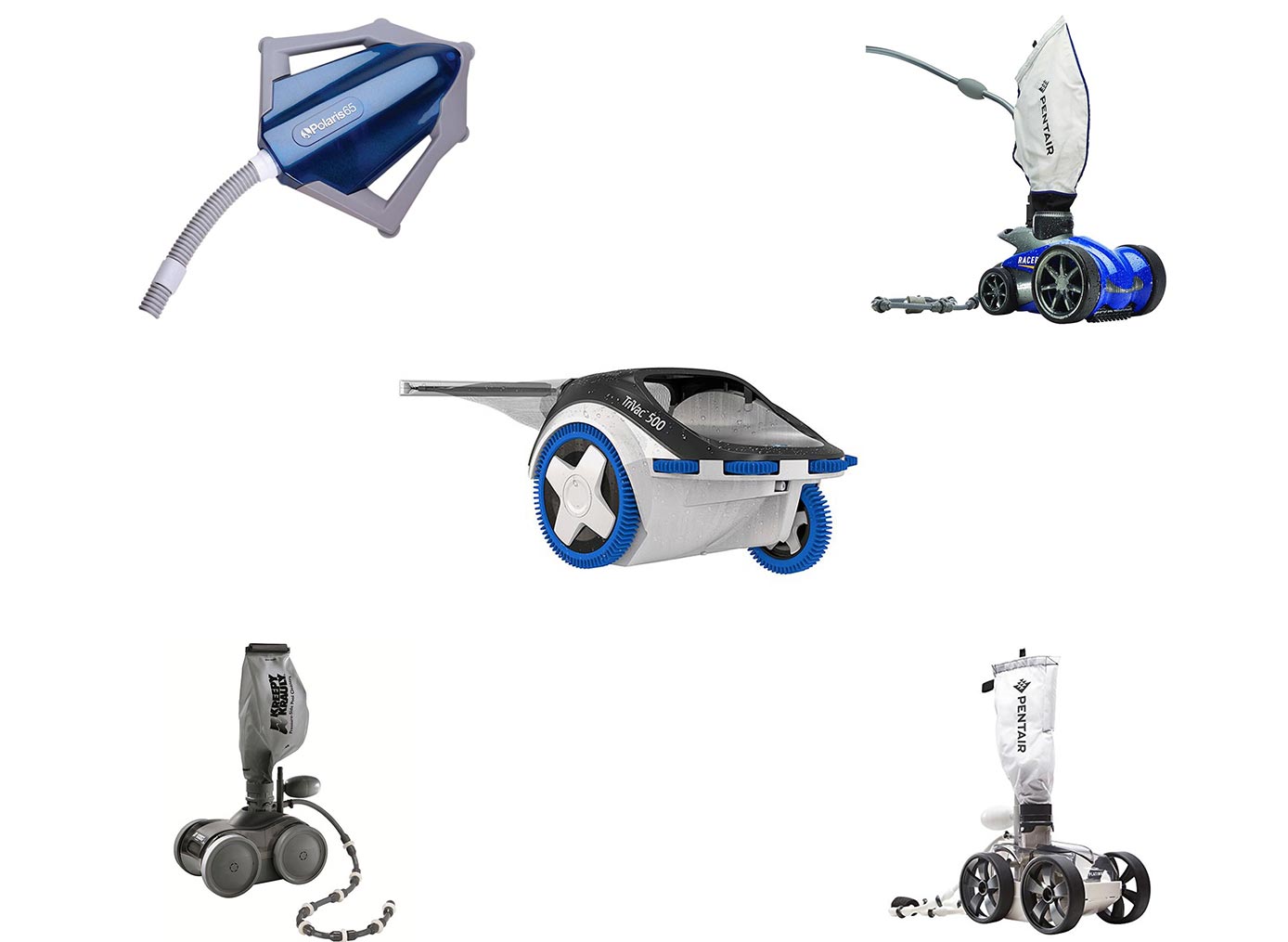 Other details:
Weight: 10.4 kg
Length of the feed hose:  10.4 meters
Note: A booster pump is required to make this pool cleaner work.
Zodiac 6-130-00T Turbo Turtle
The Turbo Turtle works very well with numerous above-ground swimming pools that have a depth of up to 5 feet. If you're in search of a powerful pressure-side cleaner that can rigorously vacuum and sweep all the sides of your pool in just less than 3 hours, this cleaner is undoubtedly a great option.
This unit comes with a patented powerful water jet that can loosen all the thick dirt and detritus found in hard-to-clean areas. They are all effortlessly eliminated by the jet and moved into the filter container.
The Turbo Turtle is powered by pressurized clean water that's returned to the pool. It leaves the skimmer and filters contaminant-free. Its filter container can already eliminate the detritus before it arrives at the pump basket and filter. The filtration system is no doubt long-lasting.
Other details:
Weight: 4.5 kg
Length of the feed hose:  7.4 meters
Note: It's only compatible with above-ground pools.
Find the Best Pressure-Side Pool Cleaner that Suits your Cleaning Needs
There are a lot of pressure-side cleaners available in the market. However, it's tough to recognize what are the best ones. If you want to read a more detailed review of the best pressure-side pool cleaners you can purchase, continue reading this.
Along with the correct pool cleaner, it's also recommended for you to use a pump that'll ascertain proper water circulation through the filtration setup. Evidently, a variable speed pump is the best selection you can depend on to give your pool the most nonpareil "heart" possible.