Creating good logos is a tough task. It's more than just a mix of colors, fancy fonts and mascot. If you ask a designer, a logo is one thing in the whole branding process that takes the most time & effort. Creative business logos are developed with research, skills and experience.
Logos are critically important for a brand's visual identity but it can't be treated as everything. Whatever it is, logo creation needs pro guidance and experience to create unbeatable output. In a nutshell, creating a logo is not something one can do while binge-watching your favorite show.
So, what's are the ingredients needed to create a great logo?
To Begin With
Here are tips on how to start creating a logo:
Take Inspiration
To get fresh and creative designs one must do thorough research and get inspiration from the different platforms. When looking for creative ideas, go for online platforms such as Dribbble. A creative logo design agency knows the leading trends and comes up with outstanding designs.
In short, anything that makes you happy or intrigue means the design is worth consideration. So, pick as many ideas you can before starting off your design.
Learn the Basics
If you have noticed, every good logo has a few things in common. Uniqueness, interesting and simplicity – three things that define a good logo. So, whatever you plan, make sure your logo covers these three things. The second most important step is to work on how to create outstanding looking logos. Whatever be the process, the end result should be interesting, enduring and versatile. Most leading creative logo design services focus on this.
Learn from Others but be Original
Yes, taking ideas and learning from master logos is a great attitude but you're supposed to design your logos. You can never win hearts unless you surprise your audience with a great logo. And, why would people appreciate something that they have already seen? So, make sure to present a new design that has everything in it.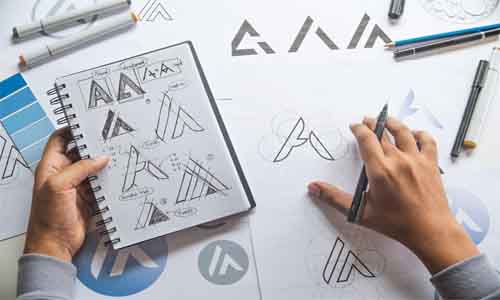 Tips & Tricks
Here are some tips and tricks to follow:
Know Your Target Audience
Your audience is the ultimate people who are going to like or dislike the final output. So, knowing your audience is crucial. Understand the people who are directly going to use the logo. Understand them and then work accordingly. Never rush as a logo is the outcome of days of research and hard work. And creative business logos are usually creative yet simple.
Must Read :   4 Awesome Tips for Designing the Brand Logo
Think Like the Brand Itself
When creating sketches, invest some time in thinking like the brand itself. Know the brand, what it does, how it is helpful to people and how it benefits the target market. Go through all the details provided by the brand and study all the versions of the logos. This will help you give a better direction in creating the right kind of logo.
Lastly, make a list and write down all the important things to include and what not to include. Once you're done with this, it will help you create your logo better.
Create a Board to draw Logo Emotion
This is necessary to get the right mood of the logo. Confused? Every logo carries a specific mood that is transferred when you look at the logo. Every creative logo design company in India works on this part of the logo. This part is crucial as you can easily work on various concepts and get effective results. Also, it helps in creating different inspiration from several sources.
Collect all the moods and see what is the major emotion that can fix the logo.
Follow a Framework to Create a Good Design
A logo needs to have a framework so that it can work in a specified direction. Thus, what works well is to create a grid for the logo that can be followed to develop a good concept. As you start working on the design, getting to the final output becomes easy and efficient. Most successful logo designs put everything together.
Final Words
Designing is art and it needs time and efforts to get the desired outputs. If you work carefully and understand the brand properly, developing good quality logo design is no big deal. But at the same time, it's not an easy task either. Although, a professional creative logo design agency knows how to provide a good deal yet one can always try designing a logo itself.