Top 3 Hijab Fabrics and How to Wash Them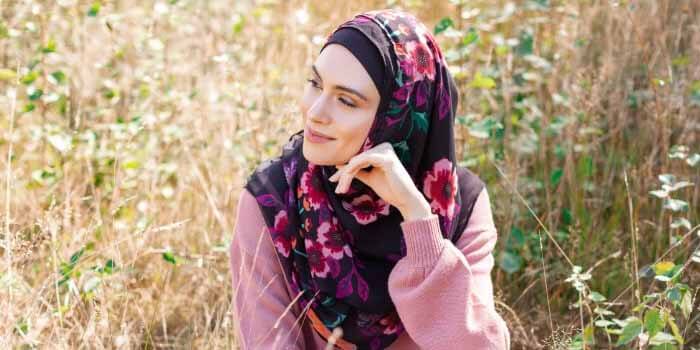 Hijab can be described as the essence of any Muslim woman's ethnic wear, although a big percentage of non-Muslim women across the world also use this piece of attire to enhance their looks. It is basically a rectangular piece of cloth that is worn around the head to cover the head and shoulders while leaving the face. Surprisingly enough, most hijabis have no idea on the type of hijab fabrics they put on. They often dwell on the color and texture and not the type of fabric.
But did you know that just wearing any hijab is not enough? As a hijabi, sourcing for the right fabric that enhances your looks and personality is a principal. Depending on the current fashion trends and occasion, there are several hijab fabrics in the market to choose from. Today, I will go over the top 3 hijab fabrics and how to wash them. Are you ready for the countdown? Well, here we go!
Chiffon Hijab Fabric
This is the mother of all hijab fabrics. In other words, it is the commonly used hijab fabric. Made from a combination of silk, cotton fiber, and synthetic fiber, chiffon is thin and slippery in nature. It is absolutely light and airy making it perfect for a hot weather. Chiffon is beautiful, easy to handle and control, and above all, it feels comfortable when wearing it. Chiffon hijab fabric comes in different colors, either plain or printed in decorations of different art works that can meet your fashion demands. If you're looking at enhancing your elegance, then this piece of hijab fabric is a must in your wardrobe.
Washing your chiffon hijab fabric is more or less the same as washing your clothes. This hijab fabric can be hand-washed or washed using the home washing machine. To wash this hijab fabric, soak it in water using home detergents and wash after thirty minutes. Hang it out in the open air to dry but avoid exposing it to too much sunlight. For machine washing, use warm water and tumble dry on low heat to avoid damaging your fabric. Ironing is not necessary as the fabric does not shrink after drying. You can check Bokitta's wide range of plain and printed chiffon hijabs that not only does not require ironing but are also pinless.
Related Post :  Formal And Casual Hijab For Ladies
Cotton Hijab Fabric
Cotton is perhaps the easiest fabric to identify, thanks to its many uses. If you're looking at having a natural hijab fabric, there is nothing better in the market that beats the cotton fabric. Just like chiffon fabric, cotton hijab fabrics are light and breathable, making them suitable for summer season. Unlike other fabrics, cotton hijab fabrics are durable and easy to maintain as you can easily hand-wash. This hijab fabric comes in different sizes and colors, either plain or printed, hence you have a wide range to choose from. The good news is that they are pocket friendly so you won't need to break the bank to have different colors of this attire in your wardrobe. The only drawback is that cotton requires ironing unlike chiffon.
Washing the cotton hijab fabric is pretty much easy just like washing your cotton clothes. This type of fabric can be hand-washed using warm water and home detergents. To wash your cotton hijab fabric, soak it in warm water using home detergents and leave for about 15-30 minutes then hand wash and hang to dry. Avoid washing your cotton hijab fabric with other fabrics that are not of the same color as they may stain your hijab fabric due to the fading of colors.
Viscose Hijab Fabric
This fabric is arguably one of the softest and lightest but durable hijab fabric in the market. Made from medium-weave rayon, this hijab fabric is beautiful and feels soft to the touch. It drapes around effortlessly and fits pretty well on the head and shoulders, giving you a classic hijab look. It is also a great attire for hot summers while at the same time it can keep you warm during cold seasons. Just like other fabrics, this hijab fabric comes in different sizes and color, either plain or printed, hence you can choose from the many options available.
Although this hijab fabric can be washed using the home washing machine, it is advisable to hand-wash your viscose hijab fabric if you want it to last longer. To wash your viscose fabric, dip it in warm water and add home detergents. Wash and hang to dry in the open air. Do not let it out in the sun for long as it may easily tear after sometime. For turf stain removal, soak it in warm water using your home detergents and wash after thirty minutes.
Although there are several other hijab fabric in the market, these three fabrics top the list of the best three hijab fabrics you can find anywhere. Others include; jersey, modal, silk, polyester, rayon, and viscose rayon among others. However, when buying your hijab, it is prudent to consider the type of fabric that feels comfortable on your body, the price, as well as durability.