You must have searched about logo designs, banners, animation and so on. But along with this, you must have come across the term 'branding'. Branding goes beyond all these and it includes everything that makes a brand strong and powerful. In fact, a company invests a lot in the logo and corporate identity design of its brand.
What do you think of a brand when you first look at it. It's the logo, the font style, color and most importantly the feel that a brand offers. Surprisingly, all of this comes under branding. If I say in other words, branding is what people feel about a brand.
It's critical to understand the power of branding to a business. And, it also gives you the freedom to create an experience that people could relate to. Still, there are startup companies that ignore the benefit of branding.
Key Benefits of Branding and Logo Design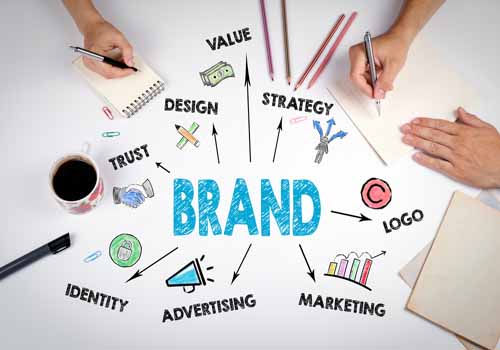 Although, there are several reasons that make branding and logo designing crucial, let's find out some of them:
 Branding & Logo Develop Recognition  
It's true that people like to connect to brands that are known in the market. The popular branding and logo design companies understand the importance of a brand and thus, they work accordingly.
If your brand is consistent and easy to recognize, it can make a lot of difference to a brand's identity.
Helps Stay Apart from the Competition 
The world is a global village in today's era. The only thing that can set a business apart is the branding of a brand and the way it communicates with customers. People are smart these days, and thus, it's important to be honest, sincere and innovate. This is when a good branding can turn in favor of the brand and present relatively better results.
As your brand is no longer competing only in the local market, thus, you have to be good in every aspect of your brand. Thus, pick the best brand design services company and use it for your branding.
 Offers What to Expect from a Business
If a brand has the right branding and logo design, it attracts the right customers easily. The professional companies present themselves in a way that the target audience gets influenced positively. They create such vibes of the brand that people relate to. These vibes are created by the branding of the business.
Once the branding is created successfully, people know what to expect from that brand. This is the reason why people know which brand they have to go to.
Gives Clarity & helps Stay Focused
Most brands wander in search of designing the right branding for a business. Not every brand know how to represent its goal in the form of branding and logo. For this, you can select the brand design services company having suitable experience. Such companies know the professional way out to bring clarity in the brand that reflects in their logo and the complete branding.
If you want to create a specific impression on people about your brand, you'll need to work on the most important aspects. Thus, by developing the right direction of the brand, you can create powerful branding for your project.
Strengthens the Business
Every business wants to create a powerful stepping stone for the business but what makes it stand out is the branding process that defines it. Thus, every business makes a genuine effort to create a strong brand. So, look for logo and corporate identity design companies that can help you create outstanding designs.
If you want to create a business that lasts long and stays strong, defines it with a good product and powerful branding. Though this process seems easy yet it isn't in real and that's why you need to work on it from scratch.
Develops Employee Satisfaction & Pride
Every employee wants to work with a company that has a positive image in the market. This gives them a sense of satisfaction and pride that no other thing can. Thus, it becomes important for a brand to present itself in the right manner in front of the market. Additionally, employees feel connected to a brand that has a strong reputation and what else other than the branding of a business can work for the business in the right manner. Thus, several branding and logo design companies try their best to create an environment for the employees that help connect with them.