Artists know best how expensive and frustrating the process of shipping artwork can be. From packing materials to delivery options, there are many things to consider when trying to save money on shipping and striking the best possible deal.
However, shipping your art doesn't always have to be daunting or empty your pockets. Read on for ten useful tips and tricks for shipping artwork on a tight budget. 
Ready to cut some shipping costs? Let's dive right into it!
Hire an Affordable Shipping Service
When researching shipping services for your artwork, don't go for the first results you can find online. Instead, try to shop around and find a shipping service that is willing to work with you on the price. Many times, smaller companies are more affordable, yet just as reliable as some better-known ones.
However, remember to check their reviews and testimonials and see if anyone you know has used their services in the past. You shouldn't be shipping art internationally with someone who doesn't have a lot of positive reviews and is unvetted.
Find Free or Cheap Packing Materials
There are many ways to find free or cheap packing materials for your artwork that get the job done just as well. 
One way is to check with local businesses to see if they have any boxes or packing materials they don't need and are willing to part with. Another way is to look online for companies that sell used packing materials. These can be a great way to get high-quality materials for a small fraction of the cost.
Art doesn't have to be wrapped in expensive materials in order to be safe during transport. There is an abundance of great cost-efficient materials that you can use to DIY the packing, so check out some YouTube videos that show how you can safely wrap expensive artwork with cheap materials.
Use Recycled Materials
If you care about the environment and don't wish to purchase additional paper and plastic, there are ways to use recycled materials to safely send your artwork on it's way on a tight budget.
Recycled materials are a great way to save money on packing and shipping your artwork. These materials are often just as good as new ones and can be found for a fraction of the cost – they'll give you peace of mind and go easy on your bank account too. 
Some great recycled materials to consider using include newspapers, old clothes, and even bubble wrap. Just ensure you're using clean materials that won't damage your artwork.
Invest in Quality Packaging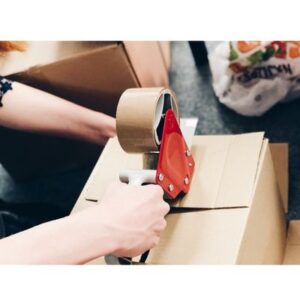 When shipping items that are really valuable, you shouldn't gable with your packaging, no matter how tight your budget is. So, in that case, consider investing in quality packaging and try to cut some costs elsewhere. This means buying sturdy boxes and packing materials that will protect your artwork during transit.
It might cost a little more upfront, but it will save you money in the long run by preventing damage to your artwork. Plus, you'll have peace of mind knowing that your artwork is well-protected.
 If you haven't shipped such a precious item before, just talk to the shipping service guys, and they will give you the best advice for your particular item.
Use Flat-Rate Shipping
If you're shipping artwork domestically, one way to save money is to use flat-rate shipping. This is a great option if you know your shipment's approximate size and weight.
The great thing about flat-rate shipping is that you'll know exactly how much it will cost ahead of time. This way, you can budget for the shipping and avoid any surprises down the line. 
Shipping companies also often offer discounts if you use their boxes because then they can better estimate the weight and size of the package.
Use Postal Service Instead of Courier
If you're only shipping artwork within your country, leveraging local postal services can be a great way to save some money. In most cases, it's much cheaper than using a courier service.
However, you will need to do your research to ensure that your artwork will be covered in case of loss or damage. The postal service doesn't have the same liability as courier services, so you'll need to make sure you're adequately covered.
Ship on Weekdays
If you have the flexibility, try to ship your artwork on weekdays. This is often cheaper than shipping on weekends or holidays since there is less demand. During Christmas, the 4th of July, Thanksgiving and other holidays, shipping rates tend to go up, so avoid these if possible.
Of course, shipping on weekdays isn't always possible, but it's worth considering if you're trying to save money. Sometimes, your customers won't be able to receive items on weekdays so you will be shipping on weekends anyway. 
Avoid Rush Shipping
If you can, avoid using express or rush shipping services. These are much more expensive than regular shipping and aren't always necessary. If you have some flexibility in your timeline, opt for a slower shipping method to save money.
Also, make sure you schedule the pick-up or drop-off when it's most convenient for the shipping company, for example, during their regular business hours, as you may be able to get a lower price.
Consider Delivering the Artwork Personally
If the person who ordered the artwork is local, you may be able to deliver it yourself. It can save you a lot of money on shipping and is also a great way to build customer relationships. It's a win-win! You can drive to the customer's house or office and drop off the artwork. Just be sure to get a signature, so you have proof of delivery.
And that's not all – delivering your artwork yourself is also a great way to avoid any potential damage that can occur during shipping and ensure that it arrives in perfect condition. You can even use this opportunity to talk to your clients about some of your other work, charm and upsell them while you're there!
Skip Insurance for Less Valuable Items
If you're shipping artwork that isn't too valuable and that you can reproduce easily, you may be able to skip insurance alltoghether, which can save you a few dollars on shipping.
Of course, you'll need to decide if it's worth the risk – if the artwork is irreplaceable or very expensive, it's probably worth paying for insurance. However, skipping insurance is great for anyone shipping smaller or inexpensive items on a daily basis, since these costs easily add up to a fortune over time.
Wrapping It Up
By being strategic about your shipping, you can avoid overspending and keep more of the profits for yourself. Leverage these tips to save money when shipping artwork, without sacrificing the safety of your packages.
Just be sure to do your research and plan ahead to ensure a smooth shipping process.  Good luck!