While quarantine have got people running towards free movie sites, more than enough people are cribbing and complaining about sports. A better way of whiling away the time – at least for sports' fanatics – is watching and re watching sport games, and then watching some more. Many of the sites demand either a price and a paid registration, or are filled with ads that fill up your entire page and not let you see your game in peace. Well, not anymore! Given below are some of the best sites sports' fans can use to enjoy their games and shows, right till post-show highlights! The sites are free and you can watch your stuff for free and to your heart's content!
Best sites/Apps For Watching Live Sports Online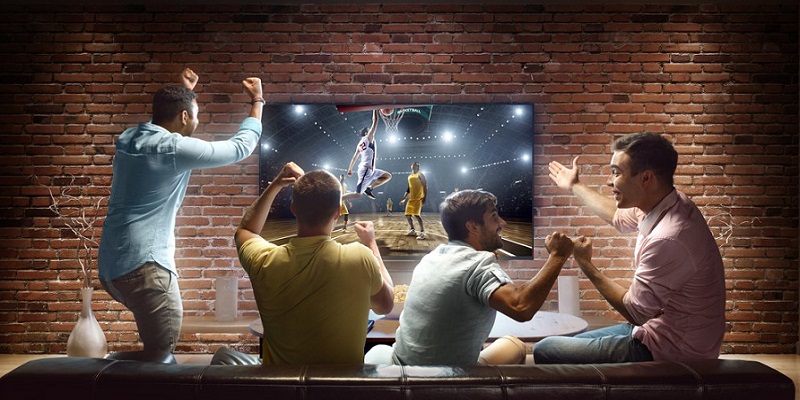 Cricbuzz has been the favorite website for people who are mad fans of cricket. No wonder most of the people enjoying its live tv streaming services would be from India, seeing that cricket is the most important sport here. Right from schedules of all the cricket matches, to actual live score – Cricbuzz offers it all. The website has news and articles too, where you can read up more on the cricket world. There are also apps of the site, on both the operating systems, which means you can never miss an update from the site. A fully-packed platform, it actually works as a boon for cricket fans!
HotStar truly changed the way people viewed and consumed their entertainment content. Not only does it have those serials and movies that your parents so love to watch, but it also has english movies and series which are sure to appeal you. Better than that, it is also one of the best and free sports streaming sites, available to the users with super easy navigation and enriching User Interface, making it easy to use everywhere. There are apps too, available for both android and iOS. Claimed to be India's most used and largest premium streaming platform, it also has the option of providing you with live cricket matches, as well as the scores and related news too.
Yahoo! Is the website everyone knows, probably everyone uses to quench their sports' thirst. It's Sports branch is everything you can wish for! Available on website as well as on both the popular operating systems – Android and iOS. Not only can you get news – detailed and comprehensive – but also standings and scores. The website is segregated in proper sections, complete with a simple search bar, headlines and trending news. If you have to stream sports at home, Yahoo! Sports is the way to go.
Periscope is one of the best and free sports streaming sites, available to the users with super easy navigation and enriching User Interface, making it easy to use everywhere. There are apps too, available for both android and iOS. The thing this site do is show a list of broadcasters as well streams, latest and popular.The broadcasters – or streamers –are categorized by places, which you can use to stream something on the basis of the places. There is also an option of chatting with the streamers, along with some really cool features.
Watch Sport Online
Watch Sport Online is another interesting streaming site which lets you stream all sorts of sports' games. The UI might be a little outdated, but it does its job. It is actually fashioned on the basis of several servers, which are undoubtedly live. There is also categorizes on the basis of sports, from football, to tennis or volleyball, and others.By refreshing the page, you can certainly get latest updates and that too, quickly as possible.It might not be one of the best live streaming apps for sports, because it is not available as an app, but it does its job and it does it right.
Livestream does exactly what the name shows –There is live streaming of sports games and shows. Available on website as well as on both the popular operating systems – Android and iOS, it sees users using it to stream many things, with premium quality cameras as well as webcams.  There is a section on the website called 'Popular Area', where you can see not only upcoming broadcasts, but also the famous and trending live. There is also an additional option of commenting, while you will be enjoying the option of stream sports.
This website greets with a nice pink-white theme, filled with news related to all major sports. A slideshow greets at the start of the site, from there 'Trending' News follow. Their description actually goes like this – 'one-stop shop for avid fans' – and it can't get any better than this, can it? It has latest than latest news, scores and videos obviously. The sports – NFL, NBA, MLB, Boxing, among others – are categorized, with their standings, scores and related news properly stored there. Same goes for other sports too. A perfect one in the lot, as far as sports is concerned
Live option of Social Media Platforms
Social Media Platforms such as Facebook and Instagram are one of the best streaming service for sports, and it is not even dedicated to it primarily. The live streaming here can be used to stream videos and therefore see videos too, including sports. Same goes for Instagram's live option. You can share it, and since it gets stored – for Instagram, at least – all time long, if you keep it saved. These also give the added feature of filters and adding text. Who would have thought social platforms will come to use for this?
ESPN is the one stop for everything sports-related. It is actually derived from one of the reputed TV channels, and the website – and the app –where you can see the digital version of the channel, complete with the games broadcasted on TV and some additional information, including updates, news and videos. Most of the sports' fanatics usually use ESPN, because it is actually one of the best live tv streaming sites. Hockey, Cricket, Golf, Baseball, Tennis and so much more – games like these will be having content related to this. The content, however, is restrictedto a level, as ESPN only has those Sports which they have rights over.
Broadcast Me
Broadcast Me is also one of the best live streaming services, available for both of the operating systems, i.e. Android and iOS. It is free too, but there is also a pro version, with more features, available in paid version. It functions efficiently, as it is connected to a multimedia server, acquired with RTMP, i.e. real time messaging protocol publishing. You can actually see latest sports live with just $5.99 one-time payment, in order to have free and lifetime access.
Twitch TV is much better than YouTube TV; a part of it is owed to it being a subsidiary of Amazon. Available on desktop as well as iOS and Android, Twitch TV is actually created for gamers and the whole of the gaming community. They can broadcast their plays, which other users can stream and watch too. Once you make your account on Twitch, you start away your streaming experience by watching high-quality gaming tournaments as well as editorials along with videos published by gamers and others.
Sports is the next best thing to watch online, after movies and TV series. If you are already craving for some free Sports' fun, being the Sports' buff that you supposedly are, then these websites and apps listed here are the way for you to go. Invite your friends too, and spend some fun times with some snacks and streaming high-qualitysports videos.