Going somewhere on vacations also means that you will buy something from there to use and for the memories of your trip. Being in Morocco, wandering in the streets of the souks of old Medinas there is a great opportunity to buy things at lesser prices with far better quality.
It indicates that you must need an extra suitcase to carry everything you buy.
I can see the countless shops as far as my eye can see, selling leather bags of every shape and size, handwoven blankets, and every item which we use in our daily lives. You get these items at amazing prices, it is not an easy task though, High negotiating skills are needed to get fair prices.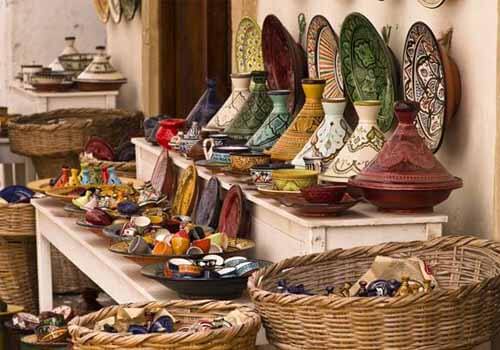 I experienced this when I was in Marrakech, I needed a purse made of leather. I visited a shop where leather products sell, opted a bag and asked for the price, It was 400 Dirhams. As I knew the trick, I went away at some distance and  gazed for the best quality purse in other shops. When I came back to the same shop which I visited earlier and asked for the same purse, the price jumped on 900 Dirhams, now that was a scam.
We finally settled on 150 Dirhams, It was a good deal. So know and learn,what the prices average on that specific place you are visiting, and how to bargain to settle the fair price. Know more about the little things like the currency exchange rate, prefer cash, locations of the places so that no inconvenience you might face or nobody can scam you while your cheap holidays in Morocco.
Try Djellaba if it suits you!!
You must have listened about Djellaba before, a Moroccan dress for both male and female women. There are so many colors, designs and colors available for females and Men. You can find them at different prices. I bought Djellaba for myself and my husband, It costs us almost 600 Dirhams. My Husband's Djellaba was around 200 Dirhams and what I bought, cost me around 400 Drs.
Argan, which only Morocco produce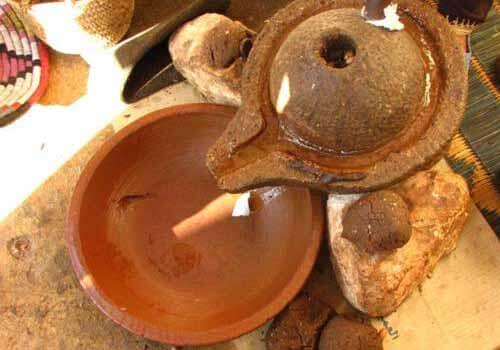 Southern region of Morocco is famous to grow and produce Argan. The oil is extracted from roasted seeds. Two types of Argan are there, one is for cosmetics use and the other is culinary. For you, Why the Argan is important to be bought, because Morocco is the only producer of Argan oil, you should stuff it to take the oil back. It is a yellow colored, thick oil mostly packed in the bottles and packages. You'll also find many products with argan infused into them. You may opt for the shampoo made of Argan or the hand lotion.
Rugs can keep your memories of Morocco tour
Beautiful, rugs of every color is a special thing in Morocco you can bring as your memories over here. You can get different prices for the different sized and typed rugs but again, your bargaining skills matter. You can be offered with 500 dirhams which makes almost 60$, but you have to wander different shops for attaining the fair price with the best quality rug.
Remember Ceramic Pots?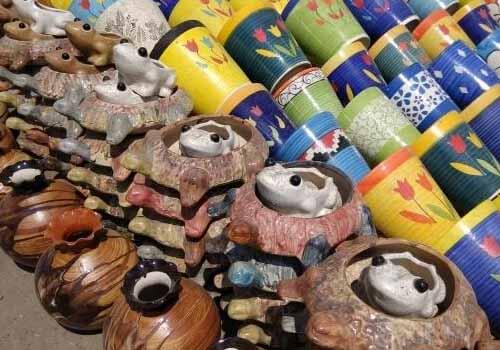 If you already have tasted the Tagine, traditional dish of Morocco, You must remember that on which dish/ plate it was served, that was a ceramic pot. There are many colorful, beautiful ceramic pots in souks of Fes I understand. Again, you are now a good bargainer I hope.
Related post :  Exploring Nature Grandeurs in Desert Safari Dubai
Musical Instruments
Two types of the primary musical instruments are found in Morocco, Arab and indigenous inspired. You can buythe traditional Arab guitar, Ouds. The most common type of instrument you'll gaze available for buying are drums. They are meant to be played with the hands and are commonly used in festivals and celebrations. They are relatively inexpensive to purchase a smaller size and make a fun souvenir for kids.
Lighten up the lantern of Morocco Memories
The lanterns are the most famous and cultural thing you can bring home with memories of your Morocco itinerary. They can be easily accessible in most markets of Marrakech and other major cities. I would recommend you to buy the small size lantern which may not cause trouble in traveling back home. Lanterns, as not the basic use of a thing, are usually expensive so keep your budget in your focus and then take decisions.
ColorfulBabouche?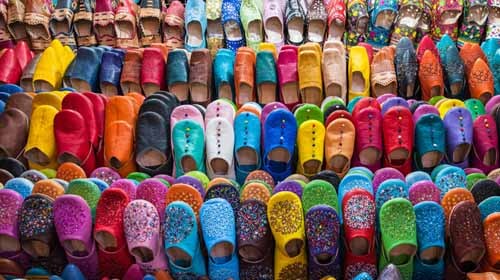 I don't know why is everything so colorful in Morocco. Here I see many colors which I never saw in London or even in my India's visit. I bought pink Babouche here in Marrakech. Babouche means slippers, by the way, Slippers are the traditional Moroccan shoes that have been worn for centuries by men, women, and children. The thing attracted me towards is that the shoe is available in every color we want. I bought for myself and my two kids, did you buy a pair? In how much?
Leather Poufs
Leather poufs are the souvenir of Morocco to must buy. They are available in the UK but ten times a price it is available in Morocco. You can unstuff it and manage it with your luggage. I bought two for my living room, It is nearly 150 for a small and 200 Dirhams for a large cushion I got.
Moroccan Wedding Blankets
White colored, fluffy blankets are hand sewn by the women of little villages of mountains. These blankets are gifted to the women in their wedding celebration. It costs around 700 or above dirhams because of the handwork and art on it.
My hand-carry is almost full, I'm going to manage my luggage for going back home. The last tip for the shopping in Morocco I want to give you is, keep open your eyes and ears, see yourself, don't believe what you hear. The shopkeeper has to influence you in anyway because he is there to earn, you are a consumer and there for the very first time.
Best of luck with your shopping in Morocco!!