The transition of our style as we grow older is intriguing and striking to look back on. Our sense of style evolves as we do, and it often turns from following trends to developing one's sense of style. Sometimes we might look back fondly, and sometimes we might refrain from looking back altogether. For boys, this is often a contentious space to navigate as their style evolves in their lives. Accessories often strike their fancy, and watches for boys are one of the most popular.
Donning a trendy, multifunction watch with many features is one that makes them stand out and imbues them with a sense of confidence. It is one of the formative moments where one can understand the ability of fashion to transform one's attitude when one looks and feels their best. That is why watching for boys that can help them feel ready to take on every challenge always helps. They are a must-have for your wardrobe. Hence, let us look through this collection of watches for boys who mean business.
The Aqua Monochrome
Watches for boys can be easy to choose from if you know what to look for and how a watch fits your overall aesthetic. This watch in blue is inspired by a colour that has often become synonymous with the male wardrobe and sense of fashion: blue. Various shades of a blue slice through one another in this stunning piece, one that is minimal in appearance yet leaves every casual onlooker intrigued and captivated by the beauty of the blues swimming within the dial.
The Classy Gold
Blacks and Golds have become a fashion statement for those who like to establish a sense of authority and a sense of gravity in their aura. Donning watches for boys in black and gold like this piece is sure to turn some heads and liven up your workwear and even party wear. It is a Multifunction dial that alternates between the shades of black and gives it a lovely and luxurious finish.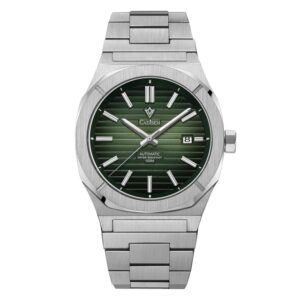 The Metallic Blues
Blues are always the best choice for watches for boys, as they can completely transform your aura while keeping a youthful glow to your look. This metallic blues piece will surely capture the attention of an onlooker and give you a cool and sophisticated edge above the rest. The indices are speckled with a golden hue, while the dial is black. The colours combine to create a memorable and classy piece that can elevate your look.
The Minimalist Chic
Trends are sure to make their way into collections in watches for boys, and this piece achieves that in the best way possible. Staying classy and meaning business I not something that happens overnight, yet this watch gives you the appearance of having achieved it all effortlessly. The black dial and Strap are in the same shade of black, with two indices on the dial and just the watch hands. It is simply the perfect monochromatic piece.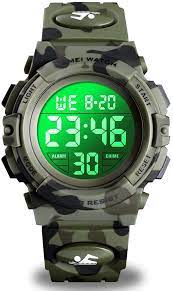 Pop of Contrast
Some eye-catching designs in watches for boys are often a take on old classics while infusing them with the spirit of the modern era. This watch dabbles in the same, creating something iconic and timeless to add to your watch collection. The square dial is in shifting metallic hues of silver, which holds smaller functions within themselves. The straps are in a bold shade of sky blue, which will always remind you to aim for tsky.
Bold with Batman
No collection of watches for boys is complete without including some characters or collectables, which are meant to be a must-have for every fan. Since most buys love Batman, this watch is a stylish take on the brooding superhero's aesthetic. The black case holds a dual-coloured dial in white and blue. The logo of Batman is embossed in yellow on the same dial, making it immediately recognizable to every passing fan.
Watches are often considered an extension of our personality. They are a fleeting glimpse into who we are in the chicest and effortless way possible. Watches for boys have evolved from conventional designs to stylish accessories that look good with every outfit. They are the perfect companion for your day-to-day as you develop your sense of style. This collection of watches for boys is sure to make you look your best for boys who like to have an edge above the rest and stop at nothing. Fastrack, its seamless user interface, and stylish collections can make that search even easier.